Hi - I am having problems (my clients are having problems) in scrolling through the appointment classes on a mobile,(andorid). The grey arrows show but they don't seem to click it just gets stuck on the first appointment. I've put some text in to show only on mobile to 'click on the grey arrows' but the only way they can get to the next appointment is to use the service filter drop down. I've had a look at the css but can't seem to see whether I can display in block format rather than next to each other or whether the boxes can be responsive on a mobile phone.
I've highlighted in red the sections viewed on a PC I am talking about but would want the dates also in the box (it's not normally red that's just to work out how I could potentially alter it on a mobile phone. Ideally these would want to appear below each other on a mobile phone.
Does anyone else have this issue?
Most of my clients tend to book using a mobile. This is a screenshot on the mobile with the grey arrows not working so it only shows wed sept 2nd instead of the others the following day.
On a mobile: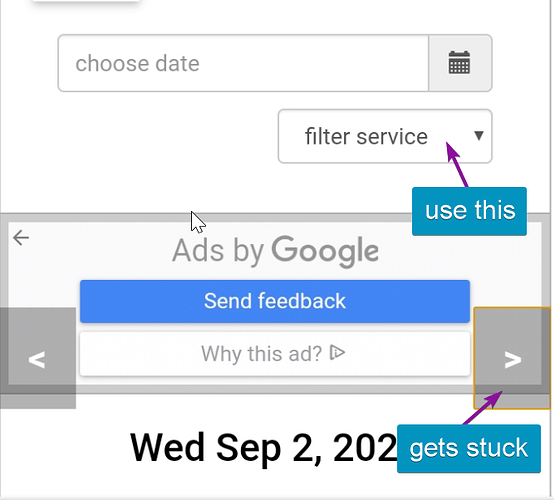 full mobile screenshot: